No, not 9 dogs. 🙂
9 Sheep.
A few weeks ago Molly went back to Dr. Bernstein at Aurora Vet and he was so pleased with her progress. He thought she was 98% recovered and could start to go back to heavy stock. Dr. Bernstein was happy to hear that she was running circles around big brother Si and getting beat up, and doing some beating up herself. What has pleased both of us is that her temperament is still wonderful. She fears no dog or truck. She's still reserved with new people, but that is her way. She's not afraid, just a thinker.
Thus, 9 little sheep…
Molly did wonderfully. She kept her focus on her stock and after using a tool called a rattle-paddle to get her attention a few times, she started changing directions from my body pressure. Right on cue. She worked in a smaller field just slightly larger than an ASCA sized arena. Complete with distractions and hazards that would drive most dogs batty. She's also working in her harness, lovingly referred to as a Supersuit . It is so handy when interacting with a young dog to have a handle on them!!
here are some pictures.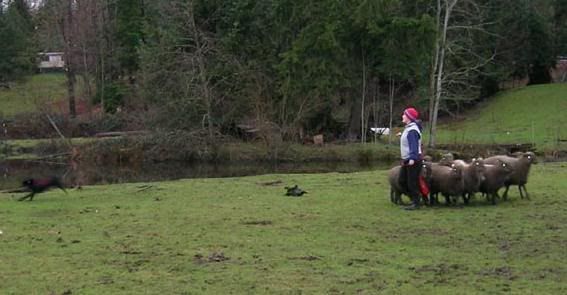 Related Posts: