Thank God.  I've never been so happy to see a total mess!  I'm speaking mostly about my home as I left early in the morning without much notice.  The outside is a bit of a mess too.  Ok, it's a big mess, but the important things are still standing; the house, the pups, the car and me.  I think I'm pretty important in this.
This is the beautiful gate Paul built; still standing!

The gate pre-flood.

My poor stairs…

This log was from the burn pile. The burn pile is on the other acre. The burn pile also floated, which is amazing because it's huge.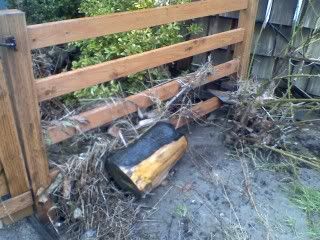 It also looks good for my garlic and onions.
I decided that today was about taking care of me.  Since nothing was absolutely vital it seemed like a good idea.  I made my working list for tomorrow and the rest of this evening is about me and my pups relaxing. Feels good to be back home.  Regardless of condition.
Related Posts: